Well, its the half-way point of the 2010 season. Six games down, and only 7 more to go to find out who will be making the trek to Atlanta in December. Week 6 proved to be a deciding factor in the race to the top, with only Auburn and LSU escaping unscathed and undefeated. Both Tigers now represent the SEC's best shot of having a contender in the BCS Title provided one remains undefeated. If Auburn wins this week, and assuming LSU can overcome FCS McNeese State, Jordan-Hare Stadium will turn into
"Thunderdome"
on October 23rd.
"Two men enter, one man leave."
Then again, if no one remains undefeated after Atlanta, there is a high likelihood of the SEC missing out at a shot for another BCS title.
Can he lead the Tigers and the SEC to the promised land?
Outside of an undefeated Tiger team running the tables (i.e. 2004 Auburn), who will we see emerge from the SEC East? Going into the season, Florida looked like a re-loaded title contender, with a SUC team not far behind followed by a fresh crop of talent at UGA. Six games in and Florida looks to be facing an identity crisis and out of the hunt, UGA is facing a probable break-even record at best, and SUC has risen to the top after stunning #1 Bama. But who knows what can happen? Can SUC hold on and make it to the Dome, or will UGA's win and offensive spark start a fire and send UGA to the top? Maybe the presence of new Uga VIII,
Big Bad Bruce
, will help lay to rest the ghost of uncertainty in Athens.
11 month old, 55lb, Big Bad Bruce will be collared as Uga VIII this weekend
In the rest of the college football world, I have to say that Air Force is one of the most underrated teams. Each Saturday, this team manages to win games using only the spread option and a speedy yet small defense. The Falcon nearly upset OU, are 5-1 and dominating everyone in front of them with the #1 rushing attack in the country. If that doesn't impress you, don't forget that each of these players will continue on into military service after graduating. Look for Air Force to keep rolling and pose a serious threat for upset champion in the Mountain West.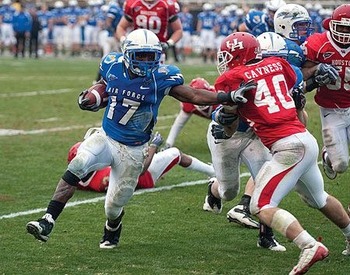 Asher Clark is carrying the Falcons to wins
In the Big 12, the race is down to OU and Nebraska in my mind. I'll give the Huskers the edge for the same reason I like the Falcons: fast offensive football and a tough D. Nebraska owns the second best rushing attach in FBS and their defense is ranked 4th in points allowed. After seeing Oklahoma squeak by lesser opponents, I can see the Sooners being stopped cold by the Husker's D. Count on Tom Osbourne and Nebraska for the rest of the season.
True freshman Taylor Martinez: 660 yds passing, 737 yds rushing. Boo-yah!
When the rest of the Midwest isn't watching the Big 12 dissolve, they're watching the Big 10-11-12. Michigan looked like it was going to run away on the back of Denard Robinson before being stopped by rival Michigan State. Now its Sparty and Brutus rolling towards an undefeated season and a shot at the National Title. But let's be honest, both of these teams will fall before the end of the year, and I leave it to you to call the upset.
Its inevitable
Outside of the Big conferences, we find FSU running wild in a weak and mediocre ACC. Yeah, nothing much else to say there. Even more depressing is the Big East. In the Big East we have...the Big East is being dominated by...Seriously? Syracuse?! Um, right. Moving right along...
The Pac 10. Oh the Pac 10! Sarkisian and the purple Kool-aid drunk Huskie nation. Lame Kiffin and his Lame-duck Trojans and their beaten and bruised defense are still a young team finding their way. Stanford and Arizona had promise only to slip up to the top two teams of the West: Oregon State and Oregon. Since OSU is 3-2, we know who is the real top of the heap. Say it with me now, "I believe in Chip Kelly, I love Nike Pro Combat, I envy uniform variations to the Nth degree, my favorite colors is forest green, and I love fast attack football". The Ducks are the team to beat. Chip Kelly has the Ducks running on the 4th best rushing attack, scoring more points per game than any other team, while allowing an average of 16 points per game. By the end of the season, the Ducks and their uniforms of metal, winged, logo covered, neon yellow, green, black...oh forget it! Look for the Quack Attack in Glendale and don't pick against them.
Come on, embrace the Duck...and his friend.
I have to say, I'm very proud of our readers for how well everyone has done thus far in the pick 'em. An average of 972 points and more than half of the group has a winning record. This is by far the best year of picks. Let's keep it up!
And now for our top 5 leaders for the week followed by our overall leaders:
Bubba with 176 points and a 15-7 record
ugafan13 just two points behind at 174 points at 13-9
Silver Britches with 172 points and 15-7
Earl's Girl with 171 points and also 15-7
WarriorDawg with 169 points and a 14-8 record
Our overall leaders:
woof woof with 1386 points and a 101-37 record
AUMav's Picks with 1341 points and a 101-37 record
Silver Britches with 1336 points going 102-36
BLACKOUT with 1300 points going 100-38
allyugadawg with 1325 points and a 100-38 record
I'd also like to give an honorable mention to BNE's
Streit,
who has managed to compile a league-best 103-35 record so far this season, placing him 2nd overall from the BNE staff, and the top 15 of all pickers.
Moving from our warm and fuzzy honorable mention, we come to our weekly dishonorable mention,
The Bottom Feeder of the Week
, which is sponsored by Capitol Nashville's new album,
Charleston, SC 1966
by Darius Rucker. Moving into the bottom position this week is
G.D..
You managed only 129 points on an 11-11 record. I know 'We All Fall Down' and I know you thought you 'Might Get Lucky' by picking Washington over Arizona, but you need to stop drinking the purple Kool-aid 'In a Big Way'. Secondly, 'The Craziest Thing' and 'Things I'd Never Do' is continue picking BYU, especially 'This' week. Its not too late, you can turn things around. Give a listen to Darius's new album
Charleston, SC 1966
and listen to the lyrics and the soulful voice describe his soul searching as he matures and moves into his prime. Give it a shot and this week might just be your 'Come Back Song'.
This album is great to listen to on the way to games
Keep it going folks. Don't forget to get your picks in and I'll be back next week after we make the turn.